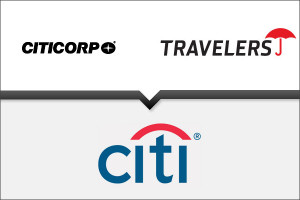 Guest post by Tyra Baumler of Tessera Design
There is so much that goes into making a great logo, but I'm not here to discuss the process as much as I am here to judge the end product. There are two ideals that most great logos achieve and they are: Keep it clean. Make it classic.
Keep it clean
After you have a good understanding of:
1. who your client is
2. what their product or service does
3. and who their audience is;
logo design is about distilling that knowledge into one simple mark.

In today's technology-steeped culture, this simplicity becomes increasingly important as marks get smaller, more pixelated, and often printed less. However, some logos may need to work in 60-foot signage as well as in 60-pixel social media icons, so clarity is key.
A great example of this "less is more" approach is the Citi logo designed by Paula Scher of Pentagram in 1998. It's a razor-concise interpretation of the merger of Citicorp and Travelers Insurance – combining the name of the former and the umbrella iconography of the latter. Brilliant.
Make it classic
If your logo is meant to have some staying power, then try to imagine it 10 or
15 years from now
. Trends and fads do not usually make for lasting logo design. This is especially true of typography and color (which are completely separate conversations). Choose that funky font and Color of the Year wisely for your client.

But "classic" doesn't necessarily equate to "timeless." Great logo ideas evolve as cultures and times change. The UPS logo is an excellent example of this. The logos below are from 1916, 1937, Paul Rand's definitive 1961 redesign, and FutureBrand's current update from 2003.

Every version of the UPS logo is more clean, more clear, and more current than the next – all while maintaining the brand's identity of trust and reliability. And they've done this for 100 years using the color BROWN. Unbelievable.

You know a good logo when you see it. It's easily and instantly recognizable and always appropriate. That's because a good graphic designer has done all of the hard work for you.
Related posts