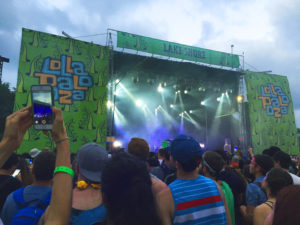 By Kate Makowski
As we walked across the park from the Bud Light to the Samsung stage, streams of music from bands playing at nearby stages passed through our ears. Thousands of happy teens and twentysomethings danced in the grass or sat on the side of the road, taking pictures and watching videos of artists they'd just recorded. We were embarrassingly sweaty, and by the end of the weekend our tired voices could no longer cheer for the bands as they walked onstage, but the blisters on our heels and the evident dehydration we felt could not keep us from dancing and singing along at Lollapalooza.
Apart from incredible music, the impressive marketing done behind the scenes for this annual music festival keeps audiences coming back. According to billboard.com, last year 300,000 people were in attendance for the show(s). On this year, for its 25th anniversary, Lollapalooza added a fourth day to the festival. I was lucky enough to attend for my second year in a row, and both years I have appreciated the awesome PR tactics that I've seen. Here is what Lollapalooza is doing right when promoting the festival:
Chance to meet the artists
This year's festival included the "F.Y.E. Autograph Tent," a place for fans to meet Lollapalooza artists, buy their music, and get autographs. The tent provided an awesome opportunity for fans, and was also a great way to boost Lollapalooza social media engagements. Fans who took pictures at the F.Y.E. Autograph Tent were encouraged to upload those photos on Instagram, tag @OfficialfyeMusic and hashtag #FYEonTOUR. Those who posted on Instagram were entered into a contest to win prizes. The tent and the Instagram contest were mutually beneficial for the festival, the artists, and the festival-goers. Getting fans genuinely excited about their posts is a great way to stimulate authentic and attention-getting social media conversations.
Front row Samsung VR experience
Lollapalooza does a great job of blending marketing with experience. The Samsung VR-Palooza offered the opportunity for lucky fans to trial run the Samsung Gear VR. Said fans would be put front row, center stage and would take live, shareable VR streams of the performances (at the Samsung stage, of course). Yeah, I'd be down for standing front and center at Flume, streaming live video content. . .you don't have to ask me twice.
Secrecy
Lollapalooza has always drawn in appeal by keeping important details of the festival confidential until as late as possible, like the names of artists and the schedule of events. That's right, loyal followers will drop nearly $350 on a Lollapalooza weekend pass before even knowing the bands that will be performing. Lollapalooza is one of several festivals that uses this approach. While this may be frustrating for wristband buyers anxiously awaiting the lineup, this is an awesome publicity stunt on the festival's part. Lollapalooza gets overwhelming online attention first when tickets go on sale, then again when the lineup is released, and then again when the schedule is revealed. This creates a continuous pre-festival commitment for fans, who have multiple opportunities to post about festival updates as they happen.
Solid understanding of target audience
This sounds like a no-brainer, but any PR professional knows that having a really strong awareness of your target demographic and how to connect with those people on social media is (nowadays) essential to any successful PR plan. Lollapalooza music festival goes far beyond killer tunes; it's a social cultural event that highlights fashion, lifestyle, and musical thought leadership. The people behind Lollapalooza know that, and utilize social media to showcase all of these "lolla" values. The Lollapalooza Instagram account primarily posts images of musicians, festival fashion, and city sights. Last year, an article in the Chicago Tribune titled "Older Lollapalooza Patrons Question Whether Fest Is Worth the Hassle," noted the percentage of festival-goers ages 18 to 24 continues to rise. The Lollapalooza mobile app is another tool that shows how well the brains behind the lolla operation understand the festival's fan base. With the app, fans can easily check the schedule, stay up to date on festival changes, and always have their phones out and ready for picture taking (that will later be shared on social media).
Lollapalooza was an incredibly fun experience for me. Not only did I enjoy the music, but I also enjoyed watching successful PR methods at work.
Related posts