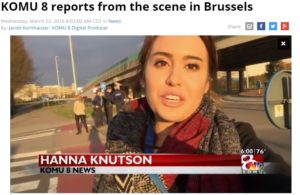 I remember scrolling through my Facebook feed this past semester, and seeing posts about a high school friend covering the terror attacks in Brussels, Belgium. Her name is Hanna Knutson, and she was there on March 22, reporting from the Brussels airport. Apart from the sadness and shock over the attacks, I was interested to hear how this experience impacted her as a broadcast journalism student. Last week, I met with her to hear her story. Her answers are something I think any journalism student could profit from knowing.
She began by explaining how she came to be on assignment at the Belgium airport (right after the explosions). Choosing boots over flats for the day, as funny as it may sound, was the deciding factor on why Hanna was chosen to help cover the story.
"I looked in the mirror and I thought, 'You know, these boots look better with this.'" Hanna explained. "Upon arrival at Reuters, the station where I was interning, a staff member said, 'One of you needs to come with me to the airport.' [He] looked at our shoes, and my friend was wearing flats, and I was wearing boots, and he said, 'You have better shoes, you're going to come with me.'"
At the airport, Hanna took video footage of the aftermath. While her coworker relayed footage back to the station, Hanna had some downtime. In the first of those moments, she realized the gravity of where she was, and how many people would want to know what was happening there.
Hanna instantly emailed KOMU 8 (Columbia, Mo.) and KARE 11 (Minneapolis-St. Paul), two news stations where she had previously interned, and asked what she could do for them. She began taking video footage, recording herself reporting on her iPhone, and relaying information to both stations. She was interviewed on KARE 11 Sunrise and was on the KOMU 8, noon, 5, 6, 9, and 10 shows. When news stations moved to a nearby school to interview explosion witnesses, Hanna interviewed people with her iPhone.
As the day went on, Hanna received numerous requests from other stations. She did an interview with CBS Radio New York, a Skype interview with a news channel in Canada, and was almost on NBC Nightly News with Lester Holt. For other reporters, she directed them to her YouTube and Facebook page, where she had posted all of her videos. I asked her how she knew what to do in the moment, not only as a young journalist, but also as someone in shock by the horrible events that had just taken place.
"I was thinking, what am I going to say? Where do I begin?" She elaborated further, "I did a broadcast class the semester before going [to Brussels]. I was taught how to do stand-ups, and describe [my] surroundings." She laughed and told me that she even had to take notes on a napkin at a nearby coffee shop. She also mentioned specifically asking KOMU 8 what they wanted from her.
I had to ask her what spurred her initial decision to go for it. She answered by saying that helping Reuters was great, but she felt in that moment that she could do something to augment her own professional experiences, too. She told me, "Don't wait for someone to tell you to do something. Go out and cover it."
This was also what she said when I asked her what advice she could give to other journalism students, after going through an eye-opening situation such as this one.
"Definitely be sensitive with the situation. People are dying, [so] be sensitive of that. You're broadcasting it, so you need to get it right." She also said that having as much information as possible is incredibly necessary. Though scribbling onto a napkin seemed silly, Hanna knew that it was critical to have the correct names of the people involved, the right number of victims, and so forth.
She encourages journalism students looking to get their foot in the door to be aware of their surroundings and to take advantage of any opportunities. Apart from that, she says networking is important, and admits that she is fortunate to have ready media contacts at hand.
"I'm lucky that I go to school where there's a station right there, [but] just to connect, so you have that connection, is key. I know it's easier said than done. I used to hate when people would be like, 'Go network! Connect! It's so important.' But now I actually realize it."
Related posts