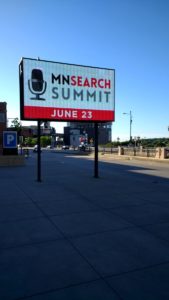 While this year's Minnesota Search Engine Marketing Association (MnSearch) Summit didn't feature Rand Fishkin, the nearly 400 attendees were treated to another outstanding keynote speaker with a Moz connection: Cyrus Shepard, founder of Fazillion.
Shepard, the former director of audience development at Moz, wowed the crowd with his personal harrowing story of fighting giardia and his insights into search engine optimization.
In regard to the state of SEO in 2017, Shepard's points included:
The myth of vanishing opportunities. Mobile has added more time that users search online; in fact, there has been a 550 percent increase in Google queries per year.
The link paradox. While an organization needs links to rank, sometimes Google ignores links. Therefore, SEOs should continue to build links while doubling down on relevancy and intent.
Need for speed. AMP is increasingly necessary. Although not a ranking factor at this point, AMP affords additional visibility in mobile search results.
Structured answers/featured snippets. As Google becomes the "presentation layer of the Internet," to earn the featured snippet, brands should include questions on their websites — preferably more than three lines and within 40 to 60 words long.
Search term versus user intent. Rather than optimizing a page for only two or three keywords, pages can now be optimized for 100 to thousands of keywords. The new approach is to answer more questions and to link out rather than giving the user any reason to click back.
Shepard was the afternoon keynote; the morning keynote was Krista Seiden, analytics advocate at Google.
Seiden, who spoke on "Moving from a Web to a Mobile World," hit on points such as:
Metrics that matter in mobile

Engagement metrics
Business drivers
Acquisition and retention
High-level device and app info
Demographics and geographics
Events

Attribution and growth

Conversion events
Understanding the most high-value users and where they come from
Targeting on user properties

Ranking on mobile

Local optimization
AMP for mobile pages
App store screenshots, descriptions and release notes
Other popular sessions at this year's MnSearch Summit included one by Rob Bucci on "Snooping into Google's Insights on Searcher Intent," David Mihm of Tidings on local ranking factors, Michelle Robbins of Third Door Media on AI, and John Doherty of Credo on content marketing.
To satisfy your appetite for all things search until next year, take these steps:
And of course, follow Cyrus Shepard online.
Related posts